JumpsPower AMG5T Car Battery Jump Starter and Cree T6 Torch at just AU$238.80 with free shipping.
Dispatched direct from the warehouse.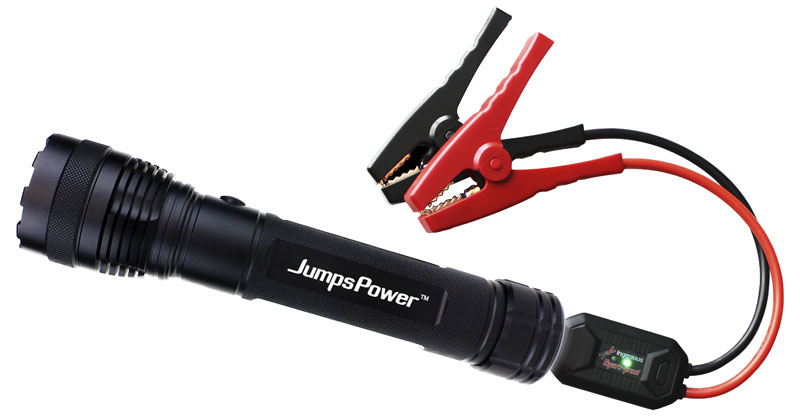 We are Australian Stockists for quality products and offer the JumpsPower AMG5T Car Battery Jump Starter and Cree T6 Torch on sale. An ideal product where the wholesalers shop or the DIY homemaker or a perfect gift for someone special. Now offered on sale throughout Australia at just AU$238.80 with free shipping this guarantees that you get the finest quality products at the lowest prices.
AU$238.80 with free shipping
Out Of Stock (Available to Pre-Order)
---
Specifications
Take advantage of our Price Guarantee
Specifications:
A good jump starter pack will give you power anywhere, anytime.
It is one of the most important pieces of emergency equipment you can carry in your car.
FEATURES:
Up to 40 times lighter than traditional jump starters – weighing only
3 devices in one unit – works as a jump starter, a powerbank and a tor
Quickly jump starts a flat 12V battery – in a few seconds up to 10 tim
Quick full charge – for all brands of portable electronic devices
Built-in LED light – great for late night emergencies, cree T6 1000 Lu
Japanese Chipset – battery standby time can reach >2000 hours
100% Australian – owned and operated
Safe – dual reverse polarity protection, over-charge/discharge protect
Battery Capacity 5100mAh (18.87Wh)
Battery Life Cycle 1000+
Output 5V/2A ; 12V Jump Start
Input 5V/2A
Jump Start Current 12V / 150 – 300A
Operating Temperature – 20OC to 60OC
Dimension 268 x 63mm
Weight: 668g
Warranty 12 Months
As agents and distributors of branded products, at Sales Now Online you can be sure of getting the best trade prices direct from our wholesale warehouse. Now selling at just AU$238.80 Enhance your life with the JumpsPower AMG5T Car Battery Jump Starter and Cree T6 Torch and save at the same time, Now offered in stock with free fast delivery throughout Australia guaranteeing great value. We always ensure that you get the lowest prices for the best quality products available nation wide.
Promotion: Shop where the professionals get their quality products from and save with free delivery Australia Wide.
Suppliers of quality outdoor > automotive and accessories
Out Of Stock (Available to Pre-Order)
Discontinued item – No
Our outdoor > automotive products are offered at prices to suit every budget. We have many more sale offers for you to choose from.
✓
Offered on sale.
The JumpsPower AMG5T Car Battery Jump Starter and Cree T6 Torch is now on sale at a special trade price of AU$238.80 it does not get better that this. Shop with confidence at SalesNowOnLine.com
✓
Free Shipping.
Free shipping on all orders Australia wide.
✓
Generous Exchange Policy.
Exchanges accepted on items returned up to 15 days from delivery. See our Exchange or Returns detail.
✓
Stock.
Out Of Stock (Available to Pre-Order).
✓
Manufacturers Warranty.
All our products come with a full manufacturers warranty.
✓
Everyday Specials.
Big Brands, Everyday Low Prices with Special Discounts on selected items.
Another Quality Branded Product.
Why Buy From Us
Safe and secure shopping guaranteed (SSL Cert)Amazing offers from an Australian Company you can trust
Free Shipping Australia wide
Delivery form stock within Australia
Dedicated online support
Shop with confidence
Tracking details sent with your Order
Convenient payment options (PayPal, Visa, Mastercard)
Shop with confidence at Sales Now Online where only the finest quality products are promoted and equipment shipped direct from our wholesale supplier. If you are happy with your purchase, tell a friend, if not tell us. Ref:Procor Australia
Delivery Details
Your order will be dispatched with Free Delivery on the first available business day
Please allow 2 – 3 days for delivery.
---
Shop where the professionals shop and shop with confidence at Sales Now Online where only the finest quality products are promoted, all products shipped direct from our wholesale dispatch centre.
If you are happy with your purchase, tell a friend, if not tell us
Ref:SNODS-10_amg5t
---